Bucket list for the colder time of year
With Xavax
The colder time of years is just around the corner!
Make sure your autumn and winter are anything but boring with Xavax
Let's not allow the bad weather to get us down, let's keep our spirits high:
Here are some activities to keep you going and make every day into something a little special.
Lantern crafting
Let there be light!
For outdoor or indoor use: lanterns provide the perfect decoration for the colder times of the year – especially as the evenings begin to get darker.
All you need are some paste, some old jars or tins (an old jam jar, for instance), a tealight and some transparent paper. You can use them to make some beautiful creations either by yourself or with the kids: first, you have to cut the transparent paper into shape, then apply the paste to the jar. Apply the pieces of paper in your desired shape and your lantern is ready to go! If you want, you can also decorate your artwork with waterproof pens or other handicraft materials.
With the Xavax multi-functional lighter and a simple tealight, you can now light up your lantern to finish.
A delicious soup
Because the way to our hearts is through our stomachs
Cook a delicious pumpkin soup. This recipe is guaranteed to warm you up as it gets cold outside.
Ingredients (4 servings)
| | |
| --- | --- |
| 1 kg | pumpkin flesh |
| 250 g | carrots |
| 0.5 kg | potatoes |
| 1 | onion |
| 1 tbsp | butter |
| 1 litre | instant vegetable stock |
| 65 ml | milk |
| | salt, pepper |
| | Optional: pumpkin seeds |
This is how it's done:
Deseed and dice the pumpkin flesh
Peel, wash and chop the carrots and potatoes
Peel and dice the onion
Heat up some oil and sauté the onion in it
Add the broth and bring to the boil
Add the potatoes, pumpkin and carrots, then season with salt and pepper
Leave to cook for around 20 to 30 minutes (turn the heat down low)
Use a blender to blend the soup and then add milk
Season to taste, scatter the pumpkin seeds over it and serve hot immediately
Baked cookies
Some sweet baked treats!
Feast on some delicious cookies after your soup, or maybe even just in the meantime... mmmh! They taste the best when you've made them yourself!
Ingredients
| | |
| --- | --- |
| 500 g | flour |
| 6 g | baking powder |
| 150 g | sugar |
| 1 sachet | vanilla sugar |
| 2 | eggs |
| 250 g | butter |
| | Flour for the work surface |
This is how it's done:
Mix all the listed ingredients well
Knead the dough thoroughly on a floured surface to form a soft mass
Wrap the dough in clingfilm and place it in the fridge for around 15 minutes
Roll out the dough on a floured surface until it is roughly 5 mm thick
Cut out the cookies in any shapes you want (some shapes that are nice for autumn or winter include pumpkins, leaves, pinecones or stars)
Space them out on the tray and bake at 180° C for 10 to 15 minutes
Decorate as desired
Our tip: coloured icing, chocolate and writing icing make the perfect decorations for your cookies for autumn and winter. They then won't just taste delicious, but will look fantastic too!
Practical aid: Baked cookies
Practical aid
Establish order
Keep your kitchen shipshape
To ensure you still enjoy working in the kitchen next time, it's important to keep your work area clean. Xavax provides the right aids for when something goes wrong in the kitchen or when you don't have the time or even just the energy to clean up. They make cleaning up child's play. And a clean kitchen will also make you feel much better inside.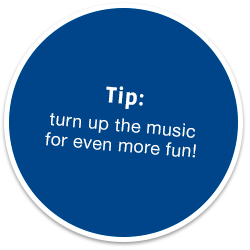 Adjust your mood lighting
Let the cosiness in
Sit safe and sound in your warm house and look out at the terrible weather through your window: warm white lighting ensures a cosy and comfortable atmosphere in your home. LED filament bulbs in particular are absolutely perfect for doing so. Not only do they provide atmospheric light, but they look really stylish as well. Xavax LED bulbs also provide huge energy savings, meaning a win-win-win for you.
Plant care
Green fingers
The plants in your home should feel good too: our plant grow lights support our green friends during the darker time of year.
Did you know? It's a fact: we should take to our plants. According to some studies, our green companions grow faster when we give them our attention through communication.
Practical aid
Enjoy a hot drink
Me time
There is nothing cosier than an evening spent in your slippers by the fire, reading a book and enjoying a lovely cup of tea. Or what about a big cup of fresh coffee with delicious foamy hot milk. Treat yourself. Make some time for you.
Picnic
Make the most of the last warm rays of sunshine
Enjoy the sights of autumn and winter in the open air, either all to yourself, as a couple or with the whole family: precious moments are guaranteed. (Hot) drinks and a little refreshment are vital for such trips. With a full stomach, nothing can stop your enjoyment of that autumn or winter feeling.
A walk in the woods
Good for mind and body
A walk in a colourful or even snow-covered forest is the perfect activity for young and old alike. And with Xavax you can do so in all kinds of weather. Let's go!
Thanks to our bucket list, you can look forward to a colourful autumn and magical winter of unforgettable moments. The huge variety of the Xavax product range covers practically every area of our lives and makes your everyday living much easier.