Vacuum Cleaner Accessories
Accessories for over 8000 different vacuum cleaner models

VACUUM CLEANER BAGS
Full Vacuum Power guaranteed
FUNCTION
Xavax MicroMultiVlies vacuum cleaner bags are made up of 4 different layers of fleece. Each layer has its own specific function.
The first layer traps coarse dirt, thus preventing the finer filter layers from clogging.
The second and third layers trap even the finest particles (as small as 0.0003 mm). This means pollen, mites and dust don't have a chance.
The fourth layer stabilises the bag on the outside.
Tip: To keep vacuum power at maximum, the vacuum cleaner bag should be changed at least once per year.
To all Vacuum Cleaner Bags >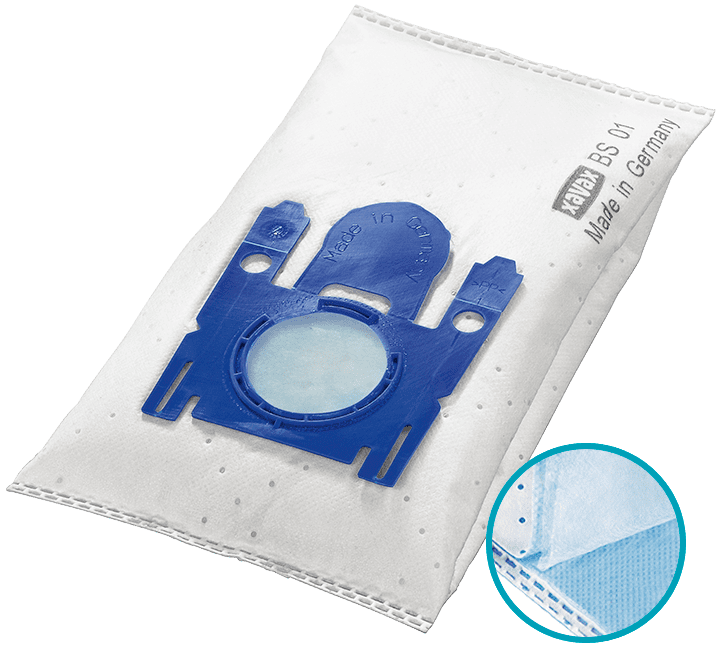 MicroMultiVlies
With 99.5% filtering effectivity, MicroMultiVlies also prevents the growth of germs and mold. Micro-particulate matter and allergens, such as pollen, dust mites, etc., are effectively bound by the multiple-layer construction.

Dust Seal
The dust seal prevents dirt and allergens, such as pollen, mites, and so on, from escaping when the vacuum cleaner bag is changed. This keeps the grime where it belongs.

TÜV-tested quality
The filtering effectiveness, vacuum power and service life have all been tested and certified by the experts at TÜV Rheinland, the German technical inspection authority.

Quality workmanship
Robust heat-sealed seams and our many-layered MicroMultiVlies keep the vacuum cleaner bag from tearing and releasing the accumulated dirt.

Exhaust/motor filter included
If your vacuum cleaner is equipped to take an exhaust or motor filter, then a universal filter (which can be cut to size) is included with the corresponding bag type.
VACUUM CLEANER ASSISTANT
The easiest way to find the right vacuum cleaner bag
Our nifty vacuum cleaner assistant will help you find the vacuum cleaner bag that suits your machine in a twinkle: www.xavax.eu/vacuum-cleaner-assistant
Simply select the brand or manufacturer of your vacuum cleaner, click on the device type, and then send the label with the Xavax designation to your printer or your email address.

EXHAUST & MOTOR PROTECTION
So nothing comes out the back
Vacuum cleaner bag(s)
Motor filter(s)
Exhaust filter(s) / HEPA filter(s)
Tip: Change filter at least once annually!
To all filter(s) >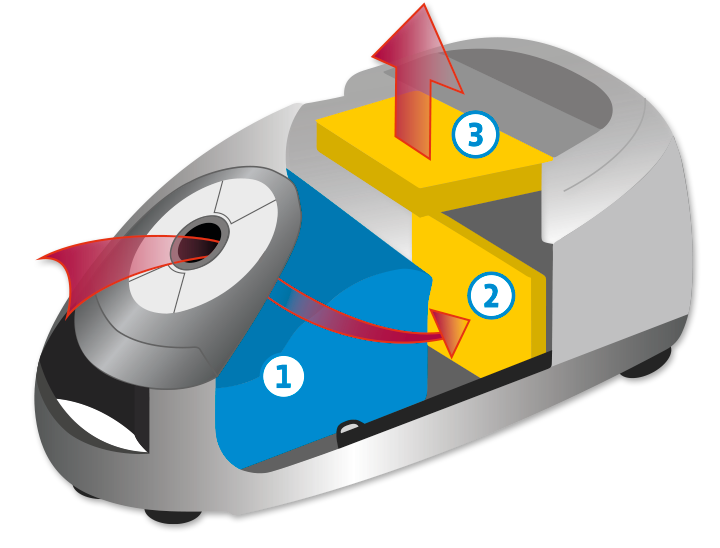 MOTOR FILTER(S)
This is a special fleece filter to keep dirt particles and foreign matter out of the motor and prevent wear and tear.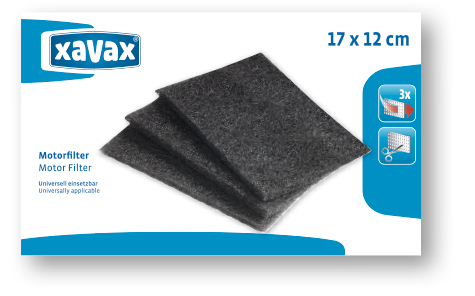 EXHAUST AIR FILTER(S)
This filter cleans the exhaust air of the vacuum cleaner, which improves the overall filtering performance. Even particles abraded from the motor have no chance to escape. This keeps the air clean.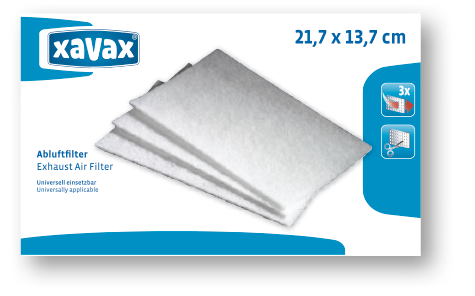 HEPA FILTER(S)
Exhaust air as good and pure as fresh
A HEPA filter is the premium class of exhaust filters and for allergy sufferers especially, there's no way around it. It keeps microscopic particles as small as 0.0003 mm (such as house dust, mites, pollen, and particulates) out of the vacuum cleaner's exhaust. There are various classes of HEPA filters, too. At Xavax, you'll find only the highest class of filters, H12, which boasts filtration efficiency of 99.5%. Here, too, we hold ourselves to the highest of standards.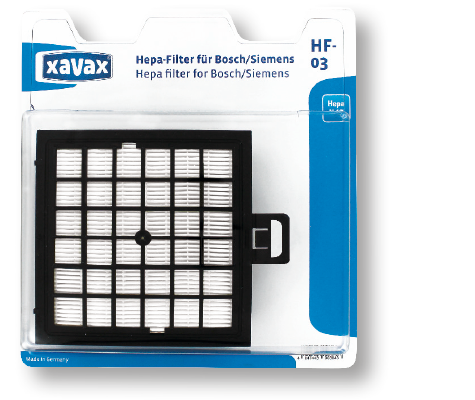 NOZZLES
The right attachment for any surface
Xavax provides a wide variety of vacuum cleaner nozzles as well, and you'll find the right nozzle for any surface.
To all Nozzles >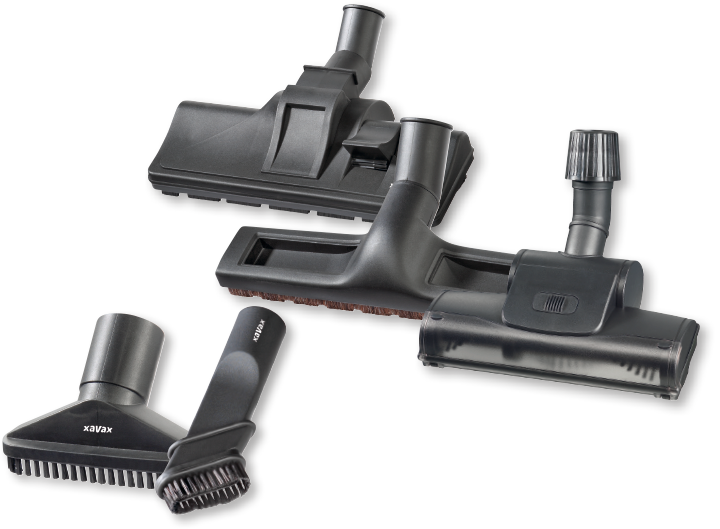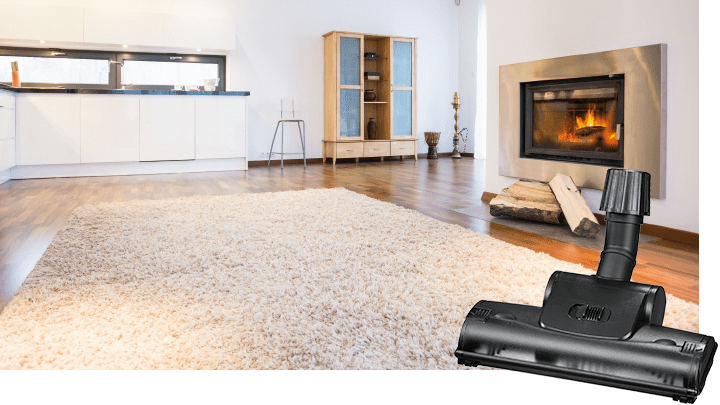 VARIOUS CARPET AND RUG TYPES
There are many different kinds of rugs and carpeting. Xavax has just the right nozzle for any variety. You'll have no trouble getting the dust and dirt off of any floor.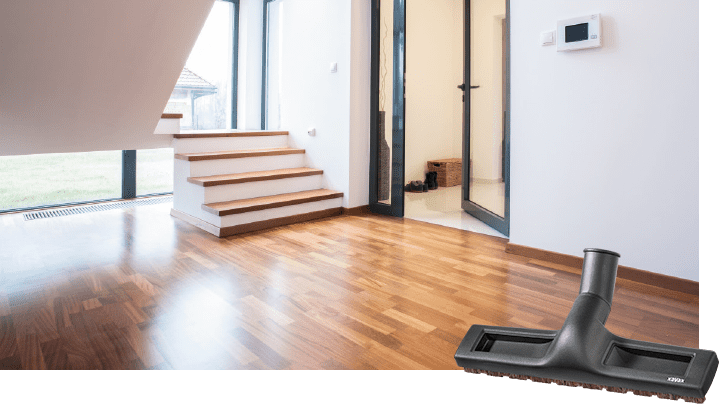 PARQUET FLOORS
Sensitive floors such as expensive parquet need to be cleaned well and with care. With special natural hair fibres, vacuum cleaner nozzles from Xavax are especially gentle and scratch-free.

CAR SEATS AND UPHOLSTERED FURNITURE
We provide special products specifically for the bothersome cleaning of upholstery and car seats. Whether it's fabric or leather upholstery, dust and even sticky animal hair don't have a chance.
UPHOLSTERY NOZZLE
Cleaning car seats, curtains and upholstery is no longer a problem with the PD 200 upholstery nozzle. The double thread catcher very effectively and gently removes hair and fabric fibres. The compact size of the nozzle means it can easily be used even in small areas.

TUBES & HOSES
Just the right connector
ERGONOMICS
The universal handles from Xavax are extremely ergonomic. This guarantees comfortable handling and untiring work.
Universal Handle >/a>
ACCESSORIES FOR INDUSTRIAL VACUUM CLEANERS
WET/DRY VACUUM CLEANER
Xavax provides a wide selection of vacuum cleaner bags for any model. Even for cyclonic and wet/dry vacuum cleaners, we have all the matching bags. We can perfectly satisfy the wishes of any customer.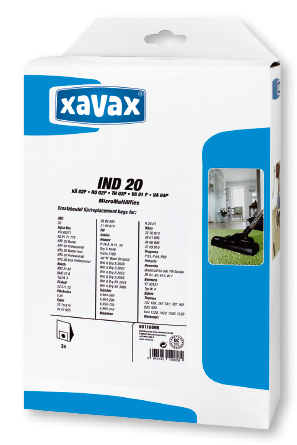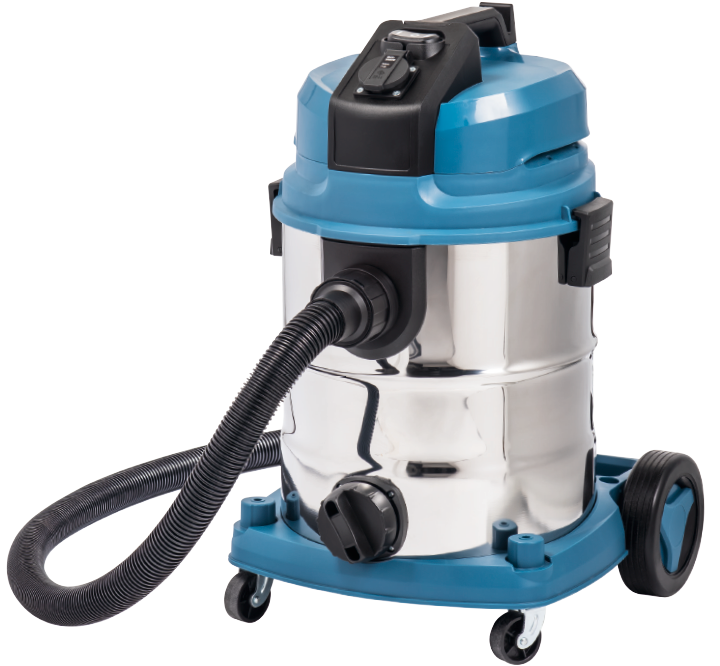 ADVERTISING MEDIA – INFORMATION AT THE POS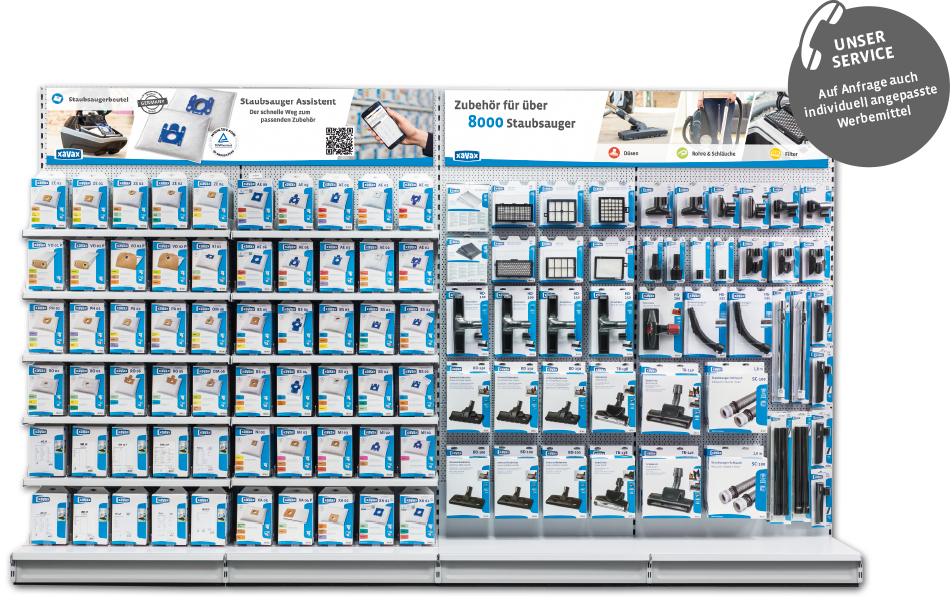 PUSHER SYSTEM FOR RETAIL
The cleverly designed pusher system from Xavax enables creating attractive shop wall displays. As soon as one vacuum cleaner bag is removed from the wall display, the one behind it automatically slides to the front. So the product display always stays tidy and organised, allowing the customer to find what they need quickly.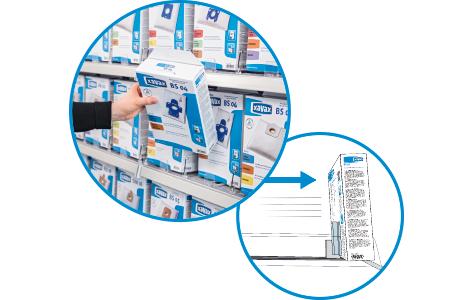 THE PACKAGING
Memo clip
The memo clip integrated into every package designates the exact type of the vacuum cleaner bag for the customer. This means that next time, they can find just the right bag in a snap.