08.06.2015
Intelligent descalers from XAVAX
Limescale deposits in coffee machines, steam irons or washing machines can seriously damage these devices and considerably shorten their service lives. At XAVAX, we have the right solution for every descaling problem!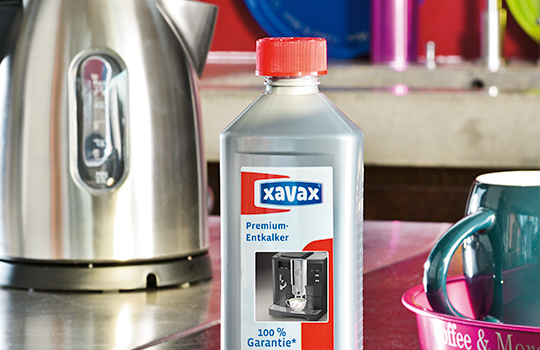 With our special descalers for every household application, you can quickly and easily remove limescale from your devices for ideal performance.
First of all, we offer a Universal Descaler that is suitable for devices such as electric kettles, egg boilers, cooking pots, showerheads, irons, immersion heaters, coffee machines and tea makers.
For high-quality automatic coffee machines of all common brands, we offer the Premium Descaler and the Professional Descaler for Automatic Coffee Machines. These two descalers are designed for machines with high pressure, and also take the sealing materials into account. These products are ideal for caring for automatic coffee machines, immersion heaters and coffee pod machines.
Our Descaler for Washing Machines protects plastic and rubber parts while removing caked-on limescale deposits on heating rods, hoses and valves. This optimises heating performance and saves energy because the machine can now heat up faster.
We offer a convenient, ready-to-use fluid for descaling steam irons, and the Quick Bio Descaler combines effective descaling and protection of your devices with excellent biodegradability.