Xavax To Go
Makes healthy eating easier every day
The trend around To Go is spreading like wildfire in everyone's everyday life. Whether hot soup, crunchy salad, tasty sandwiches or simply a versatile snack: Xavax offers you practical and versatile ways to take your home-made creations with you wherever you go and enjoy your everyday life in a healthy and affordable way. Keeping warm, cooling, microwave safe, leak-proof - discover the variety of the Xavax To Go series.
Jana, Nils and Xavax To Go
Jana and Nils are both on the road a lot and therefore often take their home-made food with them.
The To Go series from Xavax is therefore their perfect everyday companion. Practical and stylish: Enjoy home-made food simply everywhere.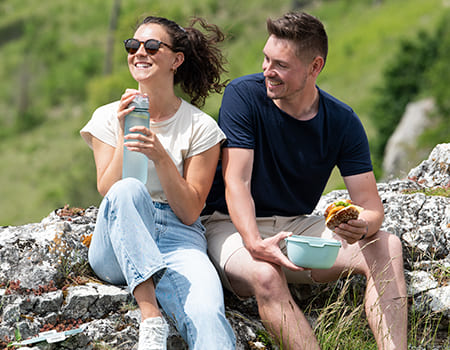 Jana and Nils' relaxed daily routine
06:00
Good morning - time to get up and get going!
The early bird catches the worm!
Jana likes to start her day with a healthy workout. She meets up with her friend Maya for this. The most important thing to remember: Stay Hydrated!
With the Xavax drinking bottles, Jana is always supplied with enough water. They come in different sizes, for thirsts big and small.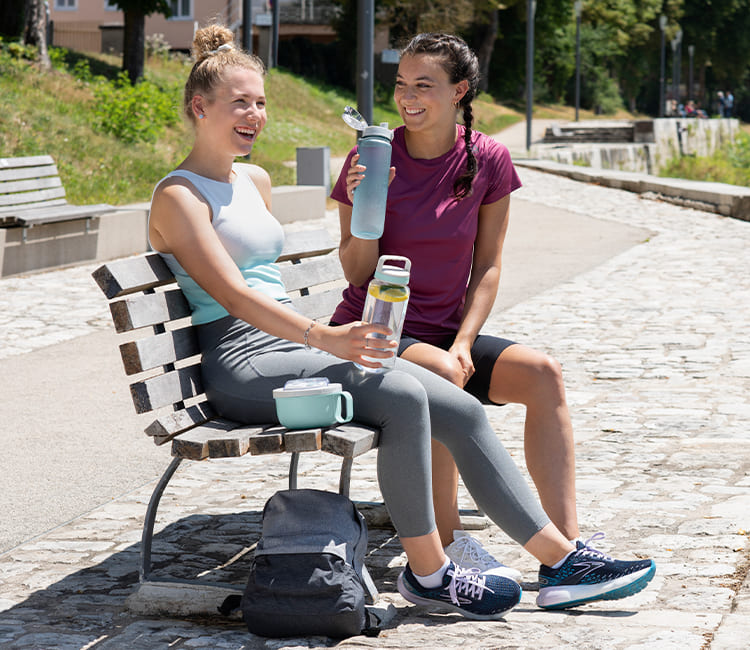 Perfect for any workout:
Did you know?
During average recreational sports, the body loses up to one litre of water per hour. So it's all the more important to drink plenty!
07:30
Catch a train and have breakfast in peace
Breakfast makes the day
After that, it's off to work. Jana has an hour to herself on the train to work, during which she can enjoy her breakfast in peace.
The first coffee of the day is a must-have: fresh from the coffee machine, it stays hot for a long time in the Xavax insulated mug. Enjoyment comes as standard!
To overcome the first hunger pangs, Jana can't do anything without her muesli cup from Xavax. Jana's secret tip: she prepared her muesli in it yesterday to save time in the morning. Thanks to the separate topper compartment, oat flakes and so on remain crunchy until the next day.
For more variety at breakfast, however, a porridge now and then is just the thing.
Delicious porridge
Ingredients for two servings:
100 g porridge oats
300 ml water or low-fat milk
A pinch of salt
Sliced fruit/toppings (apples, pears, grapes, berries, banana, nuts, fruits of all kinds, chocolate flakes, honey, etc.)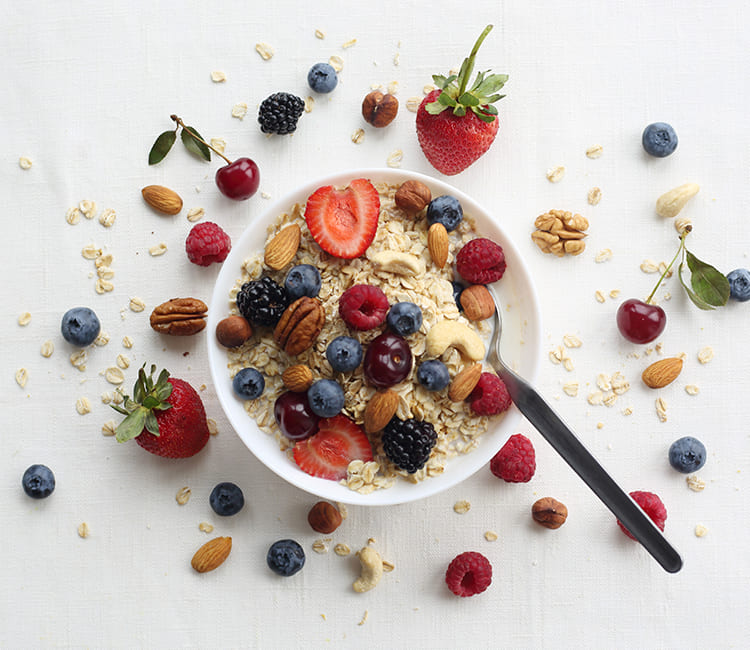 Cut different types of fruit and prepare toppings of your choice
Depending on your personal taste, you can either use just water, milk or a mixture of both for your porridge. So put 300 ml of liquid in a tall saucepan.
Add the porridge oats, heat and bring to the boil briefly.
Simmer, stirring occasionally, until the oats have swelled and formed a mushy consistency. Caution: anyone using milk should be careful at this point because milk tends to burn quickly.
Add a pinch of salt to the porridge and stir vigorously.
Pour the porridge and toppings into the Xavax Muesli Bowl and enjoy on the go!
Perfect for breakfast:
12:00
Lunch break: Enjoy leftovers from last night
Break at last!
Tummies already rumbling, at 12:00 sharp we finally have lunch. Jana enjoys the soup from the previous evening. She warmed it up this morning and it is still warm thanks to the insulating function of the Xavax soup container.
In order to be able to continue concentrating, Jana took the 1000 ml glass drinking bottle with her. This means she has enough to drink to cope with a stressful working day.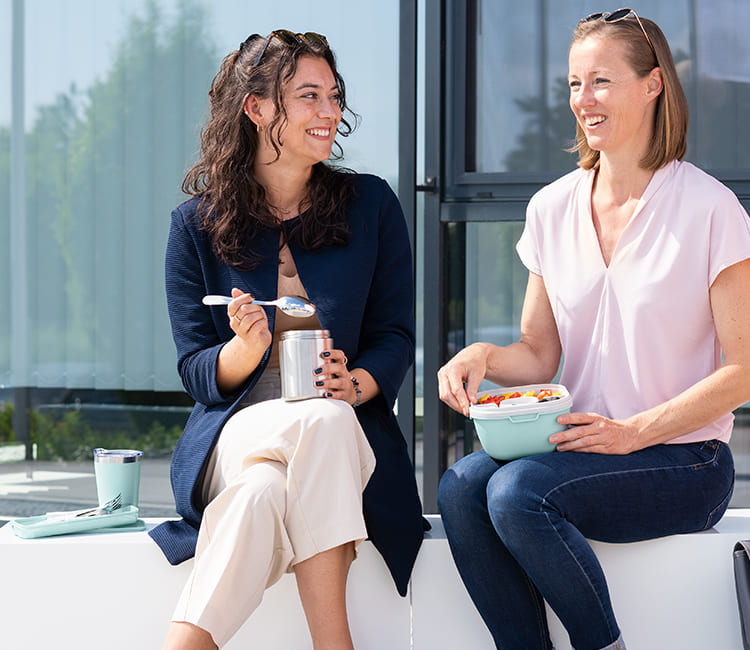 Creamy pumpkin soup
Ingredients for four servings:
1 Hokkaido pumpkin (approx. 800 g)
1 onion
1 clove of garlic
2 tbsp butter
1 l vegetable stock
Salt, pepper
100 ml whipped cream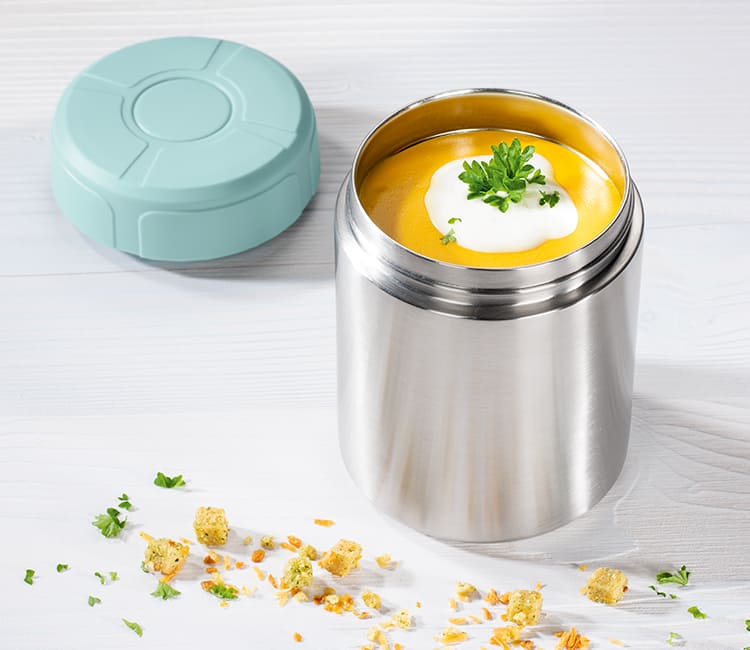 Halve the pumpkin, quarter it and scrape out the seeds with a tablespoon
Wash the pumpkin, pat dry and cut into pieces
Peel and dice the onion and garlic
Melt the butter in a saucepan
Sauté the onion, garlic and pumpkin
Deglaze with stock and season with salt and pepper.
Cover and simmer over a gentle heat for approx. 15 minutes.
Add approx. 3/4 of the cream and purée everything finely.
Pour the pumpkin soup with the rest of the cream into the Xavax Soup Pot, dress with pepper, parsley and chilli flakes as desired, don't forget the cutlery and enjoy on the go
Perfect for the office:
17:30
Hometime! Off and out
Not only enjoy nature
After work, Jana meets her friend Nina for a picnic. Between flowers, they enjoy the treats they have brought with them, relaxed in the shade.
Next to delicious food, a smoothie is the perfect refreshment for a hot summer day.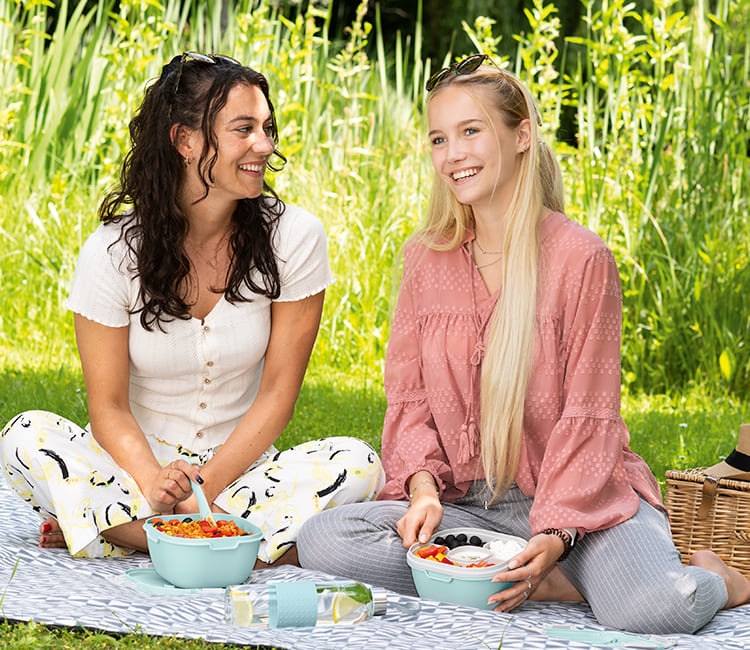 Fruity smoothie
100 g berries (e.g. raspberries or wild berries)
½ ripe banana
1 tbsp oat flakes (soft)
1½ tbsp honey
200 ml orange juice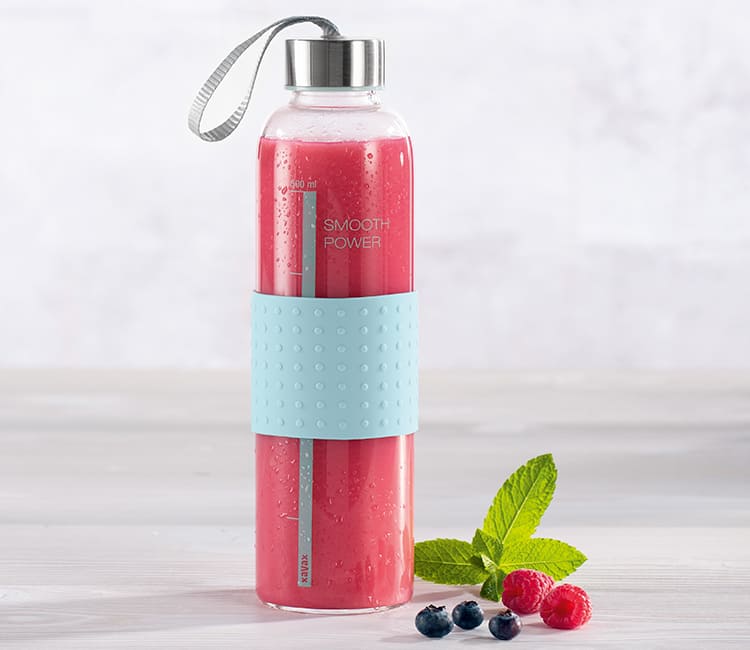 Wash 100g berries
Peel 1⁄2 ripe banana
Add the berries, banana, 1 tbsp soft oat flakes, 1-1 1⁄2 tbsp honey and 200 ml orange juice to the berries and blend everything finely with the hand blender.
Fill into the Xavax drinking bottle and enjoy on the go.
Tip: Depending on your taste preferences, other fruits can also be used, such as mangoes. In winter, frozen fruit can also be used.
Perfect for a picnic:
Refreshment at the summit
At the weekend, Jana and Nils like to go on little hiking trips in the surrounding area.
After a sweaty ascent, there is a small culinary reward at the summit in addition to the wonderful view.
Thanks to the stacking box with two compartments, the sandwich and the fresh fruit are separated from each other and Jana can enjoy her sandwich fresh and crunchy while Nils snacks on crunchy apples.
For the extra boost in the drink, Nils has taken vitamin tablets with him in the hidden lid compartment of the insulated bottle. Now he can pimp his cool, fizzy drink a little more.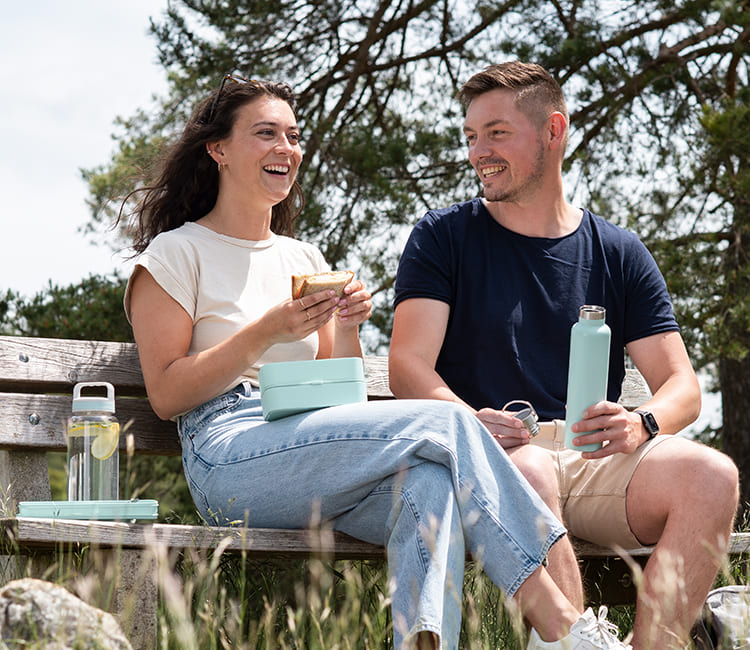 Perfect for a day trip:
With Xavax To Go, Jana and Nils can easily enjoy a relaxed daily routine. The products are suitable for meal prepping and for taking home-prepared meals and drinks on the go. True to the motto "Home-made. To Go." So nothing stands in the way of your healthy diet!